Here is a sneak-peak into the work lives of some of this year's PEY interns
Katherine Norris (2T0 + PEY), RJC Engineers
What is your position? Provide a brief description of what you do (it'd be great if you can include some project work you've done in the past if it's not confidential)
My job title is PEY Internship Student and working in the Building Science and Restoration department at RJC Engineers. My main responsibilities are along the lines of contract administration. I spend half of my time in the office working on specifications, drawings and other contract related paperwork and the other half I am on site checking progress and ensuring the contract documents are being followed. The majority of projects I work on involve concrete repairs and waterproofing of existing structures such as parking garages.
If you have to describe your work environment in 3 words, what would they be?
Collaborative & Fast-paced
Perks of working at your company…
Lunch and learns and the people. Everyone is extremely helpful even with the smallest things.
PEY Interns from previous years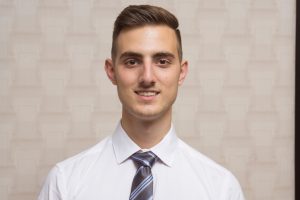 Concrete Restoration Intern
Stephenson Engineering Ltd.
---