Concrete Restoration Intern (4-month)
Stephenson Engineering Ltd.
Tell us a bit about yourself

 🙂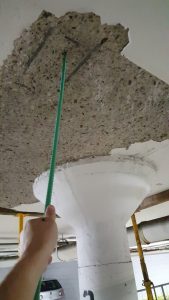 I work for a company called Stephenson Engineering in Toronto within their Building Science group. My department, Concrete Restoration, performs the investigation, design, and contract administration of aging concrete structures – primarily parking garages and high-rise balconies.
**This is a 4-month summer position not my PEY.
Describe a typical day at work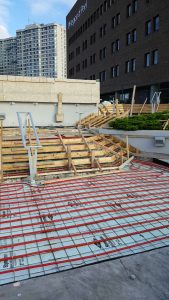 Work starts every day bright and early at 8:00 a.m. (so get used to 9:00 a.m. classes!). As an intern, I had 3-5 of opportunities a week to do "field work" outside of the office.
Examples include:
-Field Reviews: Meet with contractors on construction sites to review work to ensure the construction conforms to our design specifications and local building codes
-Structural Condition Assessments: review concrete slabs, columns, and beams for deterioration and to assess structural capacity.
-Meetings: Liaising with contractors and building management for ongoing projects. In the office, I helped prepare various contract administration duties including design specifications, construction contracts, and payment certificates as required.
What courses best prepared you for your job? 
The work I did didn't draw specifically from any one course. I was expected to be familiar with the concepts covered in Reinforced Concrete 1 (Civ313), although there were other interns who had not taken this course yet and still managed. General time management, professionalism, and attention to detail was most important to success in the role.
Describe the coolest project you got to work on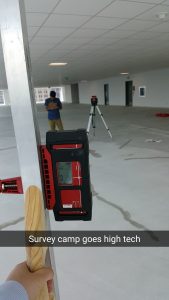 The coolest project I got to work on was surveying 3 floors 40+ stories up on 10 year old Bay street tower. When the concrete slab was originally poured, wind and weather conditions made it difficult for contractors to level the floor and as a result there were slight variations in the floor's height. While these were not visible to the naked eye, large tiles could not be installed flush and therefore the slab required rehabilitation. Using survey equipment MUCH more sophisticated than at Survey Camp, I worked with a coworker to identify areas of concrete "valleys" and "ridges" so that they could be filled or grinded respectively to produce a more flat slab.
Any tips / advice / anything you would like to share with current students?
Don't slack in certain courses that you think you'll never use. Keep an open mind as you never know what courses may come in handy later. Despite only using skills from survey camp for two days in this position, I was able to stand out as a well rounded engineer. You never know where you'll end up or what you'll find yourself doing!